Heavyweight Ad Tool Launches
New feature ensures proper compliance with Chrome standards
In August, Google's Heavy Ads Intervention policy went live, blocking resource-heavy ads in Chrome and displaying an error frame in place of ad units that exceed its thresholds for consumption of battery and network data. The company set targets of a maximum 4MB of network data, 15 seconds of CPU usage in any 30 second period, or 60 seconds of total CPU usage.

These changes to remove "heavyweight" ads likely impact a very small number of overall ads (Google estimates 0.3%), but it's yet another new standard that advertisers and publishers must be aware of and design to. Fortunately, Clipcentric's team quickly built and deployed new tools to test for and report on ads flagged by Chrome as violating the Heavy Ad Intervention policy.

"Being nimble is core to our product and team here at Clipcentric," said Shawn Pokorny, Director of Client Success. "Google announced its plan in May, and we quickly built a new feature in our platform that tests ads for compliance with these new network data and CPU usage thresholds in Chrome," he said. Clipcentric rolled out the change to its platform when Google's new policy took effect in August. "We've also added a new reporting metric that shows if ads have been flagged as "heavy". Combined, these features give our customers visibility into ads they're creating that might run afoul of the new standards," Pokorny said.

When a client uses Clipcentric's ad studio to create an ad unit, overall weight is automatically calculated based on factors like video size. Using the "Ad Report" feature directly within the ad build, a client can see a real-time calculation of ad weights based on various load stages and devices.

With one click, a user can run a "Heavy Ad Test" to see if the current design is likely to trigger removal via Google's heavyweight ads intervention. If an ad fails, users can quickly reduce the file sizes of ad components or reduce the complexity of CPU-dependent animations. Clipcentric's reporting dashboard also flags heavyweight ads a customer may have created in the past, before the limits were enacted, giving customers the opportunity to reduce file weights on older ads that could still be in circulation.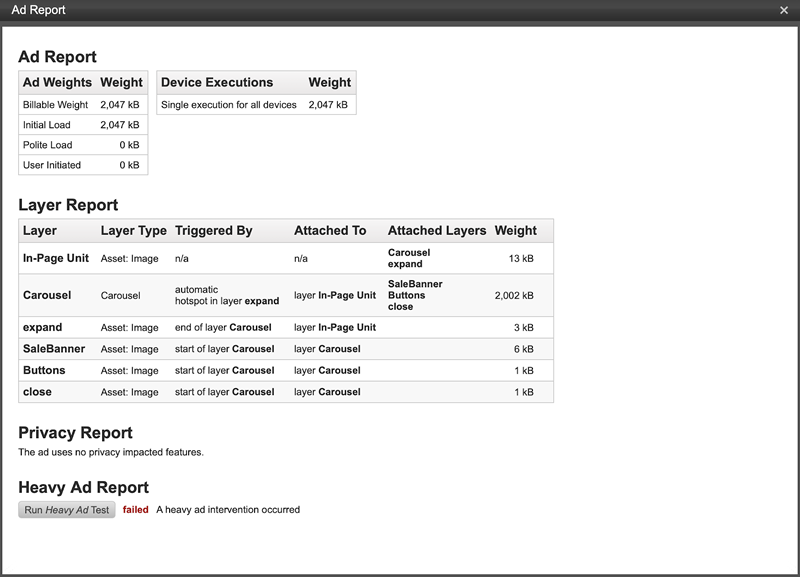 "We don't anticipate many ads will fail the heavyweight test," said Pokorny. "But for customers experimenting with high-impact video to drive engagement, or who are pushing the envelope with intensive animations and other interactive features that can increase resource consumption, this feature will offer peace of mind that their ad will run flawlessly on Chrome or anywhere else on the web," he said.

Clients who want a quick tutorial on this new feature can contact their account manager.